Need of App like Uber – The Uber Clone Script
Every Taxi company needs to launch their own taxi Booking app source code to stay relevant in the market. But Uber like taxi app source code's technology is very complex and expensive to develop. So technology has become the biggest weakness of traditional Taxi business, This is where Appok Infolabs comes into Game, To solve this technology gap in the market, we have introduced our product called Appok-Taxi which is a technology very similar to Uber. Appok's goal is to empower traditional Taxi businesses and budding entrepreneurs by providing them with complex technology solutions at affordable cost. Now you are in a place of experts who developed the most familiar Uber like apps for the common peoples which are now brands. The Business application is created by considering all the factors that are faced by the Customer, Driver & Business.
Overview – The Uber taxi booking App
Appok Taxi is an Uber taxi booking app which is completely customizable according to your business's requirements, needs and choices. Our app script provides the best UI (User Interface) which is based on responsive app panels. This further enhances the user's experience. Our product uber taxi booking app  includes 3 applications within it: Rider App, Driver App and an Admin Panel (which allows the Admin to live monitor complete activities of Riders and Drivers). Other advanced features available in Appok Taxi App are geo-location tracking, fare management, city-wise pricing, and much more.
Why Appok uber Taxi booking dispatch software?
Appok Taxi Uber clone application is developed using our own uber taxi booking app builder. Our Uber clone script is completely tested and bug free. We customize and develop your taxi app according to your business needs and requirements.
This is the best Uber clone script available in the market which allows every feature that you require to be consolidated into one app. With options to choose various types of cars and drivers available on location allowing the customer and the driver to accept or reject riding service requests. This app is offering a different taxi booking experience for the customers from the pickup point to the destination. It's attractive user interface along with the Geo-location based technology makes easy customer pickup for the driver and their by a relaxed Ride for the customer. This on demand taxi app for sale showcases the best utility for taxi business catching up customers, without dropping a bit of enthusiasm within the journey. Availability of cabs within the reach of customer, means at all places and at all times limitlessness without clearing a lot from your wallet.
Driver App Modules:
Driver Registration
Add / Update Car Details
Online / Offline Modes
Accept / Reject Drives
Navigation to Pick-up Point
Start / End Trip
Navigation to Destination Point
Generate Invoice & Take Payment
Review Customer
Ride History
Customer App Modules:
Customer Registration
Update Profile / Settings
Choose Category (Hatchback, Sedan, Luxury)
Book Ride Now
Schedule Ride for Later
Fare Estimate
Estimated Time Arrival of the Driver
Make Payment using Multiple Options
Rate the Ride / Driver
Ride History
Free Ride Coupons
Support / Help
Admin Panel Modules :
Approve Driver's Registration request
Manage Drivers
Enable or Disable a Driver
Manage Customers
Set / Update City-wise Variable Pricing
Monitor Database
Earning Dashboard
Update Rate Cards
Check Complete Trips Feed
Sort Trips
Update Terms and Conditions, Privacy Policy, Other Pages
SCREENSHOTS OF APPOK UBER CLONE TAXI BOOKING MOBILE APP
Below screenshots depict various screens that are displayed during the usage of the applications included in the Appok Taxi app clone. The workflow amongst the applications is smooth and organic which provides the high-quality User Interface (UI) and ensures great User Experience (UX). From displaying directions from rider pickup point to the destination to instant payment generation screen, all necessary and standard features of a Uber like app have been incorporated in our Uber clone app.
Recent Research on uber for Tow truck app The tow truck business is a $5 Billion dollar yearly market. Anyway finding a tow truck (in the event that you are not an individual from AAA ) is normally an exceptionally excruciating encounter. Introduction of Uber for Tow...
The Secret of Successful HOW TO BUILD AN APP LIKE DOORDASH APP IN 2021 What does it cost to make an application like doordash app? The ascent of computerized innovation is reshaping the market. Purchasers familiar with shopping on the web through applications or...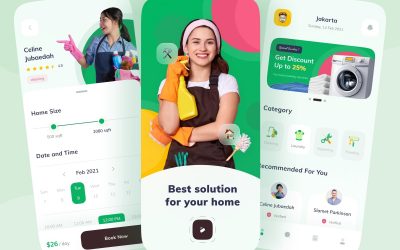 What is Uber for Laundry? What Components would you say you are Offered? Uber for Laundry is the best on-demand delivery app that meets all the laundry business necessities methodically. Grow your business reach with a first-rate and practical...
Wonderful mobile app development work by Appok Infolabs, here i found Mr. Abby project manager who is very cooperative and talented, I would like to recommend Appok Infolabs – mobile app development company to all small and big companies. I would love to meet his team personally. Thanks Again Appok Infolabs
INDIA
#241- 254 Alaknanda Tower, Sector-7, Rohini, New Delhi India
AUSTRALIA
Melbourne, Victoria, Australia